A Trumpet-Players Personal Home Page


Off in the distance, a trumpet can be heard amidst lifes woes... a horn, my horn, a Super 20 mimicks the notes of those who were and still are great trumpet players.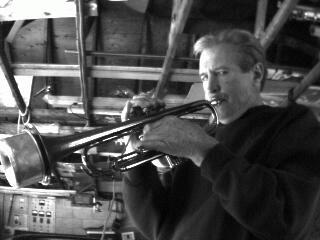 ---
My Background
I was born in a small town near the Steel City in Western Pennsylvania and as soon as the baby bottle was taken from my mouth the story goes my dad stuck a trumpet there.... it was cheaper than feeding me. I studied under a great trumpet player named "Schultz", and played beside great trumpet players like Wilbur Winfield and Pierre Enrico. There were others too, not famous, but their names are here... I remember...Art Ferrara, Art Hess, Clark Irwin, Donnie King, Pasquale Condo, Tommy Deragotis, "Clutch" Opar, and truly a great trumpet player, Tommy Konesky.
---
My Interests
Ham Radio, I am W3ZDF and can be heard nitely on 3825 Khz.+ or - at 0115 GMT with old friends like K2EY, W4RLD, W3WK, K2VJG, K8RH, K2HUK, W4DG and W8KEX. I am also a Fly Fisherman and can be found on Laurel Hill Creek most weekends. I wrote an article on Hunting with Falcons for Sports Afield magazine. Some pictures of me and Cleo, a Red Tail Hawk. All Hawk photos were digitally enhanced by Nuthatch.
---
Links to other sites related to trumpets, ham radio, falconry, flyfishing and some of my friends