K3PGP.Experimenter's.Corner


Home Astronomy Construction Laser Moonbounce Software Guest Misc
---
K3PGP Laser Radar Setup
Note: This system has been used for upper atmospheric studies and laser communications using cloud bounce and troposcatter. The EME tests are being conducted with much larger receiving optics and a more powerful laser!
---
| | | | |
| --- | --- | --- | --- |
| | Six inch reflecting telescope with CCD camera mounted on top and 780 nm laser on side. | | Front end of Six inch reflector. CCD camera on top, 780 nm laser side mounted on left. |
---
| | | | |
| --- | --- | --- | --- |
| | Six inch reflecting telescope with 10 inch laser receiver mounted on top. The inside of the cardboard box is painted flat black. The detectors are mounted on the back of the cardboard box in a metal can for shielding. | | Front end of the laser radar setup. 10 inch laser receive optics on top, CCD camera on left side, six in reflecting scope in center with 780 nm laser mounted below. |
---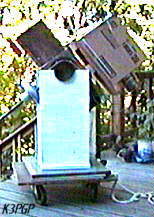 The system setup and waiting for darkness !
---
Thanks to Mike, WA3TTS for all the hard work he put into making the framework and mount for this scope! Without his input I'd still be struggling with three tripods!
---
The optics for the six inch scope are from Opti-Cast a manufacturer of low cost 'cast' parabolic mirrors!
---
Home Astronomy Construction Laser Moonbounce Software Guest Misc
Contents of this website are ©1995-2012 of K3PGP and of the originating authors.